Zhi Yulin Attends International Oil Trade Congress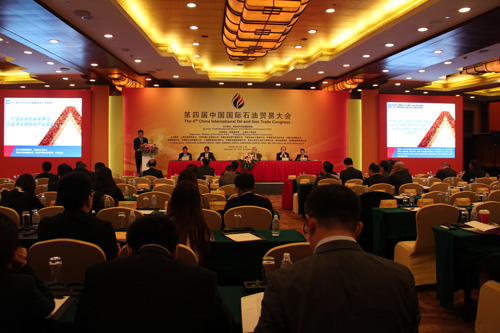 The Fourth China International Oil and Gas Trade Congress took place in Shanghai on November 18-19. President Mr. Zhi Yulin and Vice President & Zhenhua Chairman Mr. Liu Yijiang attended the Congress.
With the theme of "New Vision, New Development – New Opportunity for International Oil and Gas Trade", the Congress discussed how various participants in the petroleum industry seize opportunities and meet challenges amid material changes in world energy supply, as China is an important energy user in the world and remains in the deepwater area during the reform of the energy industry. Over 30 experts, scholars and company executives were invited to give speech at the Congress as distinguished guests. The speeches covered a broad array of hot topics like China's current reform of the oil and gas industry, development of nontraditional oil and gas resources and how Chinese oil traders participate in crude oil pricing. Zhenhua Oil Co., Ltd. was invited to give a keynote speech on China's increasingly opening crude oil import market as well as the way of small and medium oil companies to grow.
During the stay in Shanghai, Zhi Yulin also inspected enterprises in Shanghai and listened to their working reports.