Zhi Yulin inspects security work in Dalian subsidiaries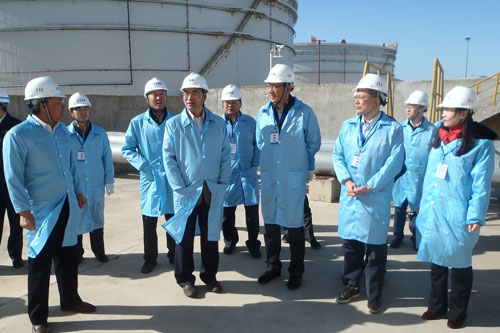 From October 26 to 27, President Zhi Yulin inspected the security work at NORINCO Dalian and Dalian NORINCO Oil Products Company, and inspected NORINCO's other subsidiaries in Dalian.
At NORINCO Dalian, Zhi made a comprehensive security inspection in the warehouse, barracks and office area, and made detailed inquiries about business procedures, warehouse and facilities, and the use and maintenance of equipment. He asked about the safeguard measures for the storage and transportation of hazardous goods, and made requirements on enhancing stakeholder management and carrying out security education in a standard way. At the NORINCO Oil Products Company, Zhi carefully inspected security-critical points such as the office area in the tank zone, command room, tanks, pipelines and instruments, and demanded the company to further standardize ground line connection, improve firefighting facilities, and strengthen equipment upkeep and maintenance.
Zhi emphasized that the subsidiaries in Dalian should implement the central government's requirement on deepening the reform and development of state-owned enterprises (SOEs), have the confidence and resolve for development, and dare to take responsibilities and make innovations. He urged them to revitalize the enterprises through institutional reform, improve operating efficiency, make full use of the joint Party committee in Dalian, and continue to enhance Party building and ideological and political education.